County of Origin: Germany & Turkey
Manufacturer: Wendel/Tamsan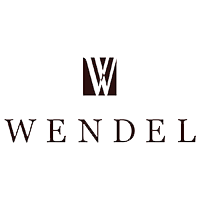 Wendel Kompressoren GmbH
Throughout the years, we have evolved and fine-tuned our technology to stay ahead of competition and always serve our customers in the best way we can. We have colleagues at all major suppliers in our industry, enabling great knowledge sharing and powerful technology innovation worldwide.
Wendel replacement parts for its compressors, airends, motors,  fans, booster, and spare  needs,  factory-genuine original parts and aftermarket as well.  With its vast research resources, Wendel  makes it easy for customers to purchase the  high-quality parts their businesses require, including high-demand and hard-to-locate items.
Wendel Kompressoren is an acknowledged leader in the production, installation, sale, and service of complete industrial compressed air solutions, as well as numerous other cutting-edge industrial technologies. . Wendel Kompressoren air and diverse technological solutions enable customers in such myriad fields as industrial manufacturing, plastic and paint industry,  textile, marine, power generation, marble, hospitals , trains, among others, to reduce energy costs while increasing productivity and reliability.. Furthermore, this also helps raise bottom line profitability.
Our Ambition
we have an increased ambition for future growth: a growth that we believe is built by exploring new technologies, new markets, new business models, and new relationships. During the last couple of years, we have built strong partnerships with several leading specialists in our industry and we took another massive step forward earlier this year. Wendel kompressoren dedicated to new technology and new innovative products and ambition to be a driving force in the ever-changing landscape of technology.
Our Commitment
Developing curent models of Compressors, reducing energy consumption  in compressed air solutions, accelerating clients access to innovative compressors and improving work safety – these are our primary commitments. By working in partnership with all Wendel Kompressoren engineers, we seek to develop practical solutions to make these goals a reality.
We believe that these commitments are in the best interest of World's humans. We will engage with all partners in compressor delivery to discuss, design and implement policies that help us achieve these goals, while improving public health and economic wealth, as well as enhancing world's industrial and science base.
Our Vision
We want systems that provide  with equal and early access to the best and safest compressors, that support innovation while balancing realistic benefit and risk; Such a vision will also assist sustaining World's economic growth and competitiveness, by balancing compressor budgets and helping to provide for a effective and productive workforce. It also offers the most effective approach to deliver the innovative Compressors  to tackle current and potential industry demands.
WENDEL T & TK SERIES
Rotary Screw Air Compressors Includes Air Receiver & Air Dryer
WK 4 T, WK 5 T, WK 7 T, WK 11 T, 15 T WK 4 TK, WK 5 TK, WK 7 TK, WK 11, TK 15 TK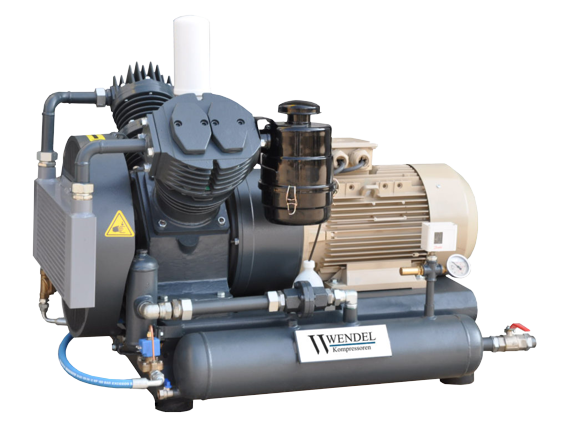 Extra Protection
11 KW and 15 KW series air compressors use same type cabinet. Asymetric profiled airend group is driven by the bearings that is highly resistant against dust. This airend group that is driven by belt and pulley work silent due to the structure of bearing and profile. These compressors have very long bearing maintenance time, which work more efficiently than the screw groups of competitors. These compressors that have cabin cover system are easy to service also facilities save money and time. Electic control unit get info to the operator regarding, warnings, fault codes and maintenance time of the compressors.
Compact Design
TK series compressors are compact design compressors including compressor, air tank, dryer, and filters. In TK series, the compressor and dryer are mounted on the same air compressor. The moisture of pressure air is separated by the dryer while the compressor running and sent to the air tank. Eventually, dry air is delivered to the system, and lifespan of the air tank is extended.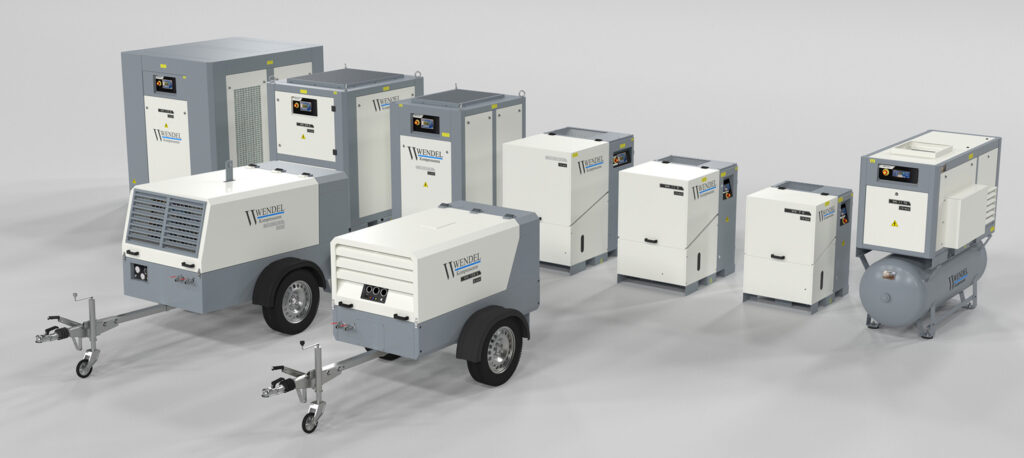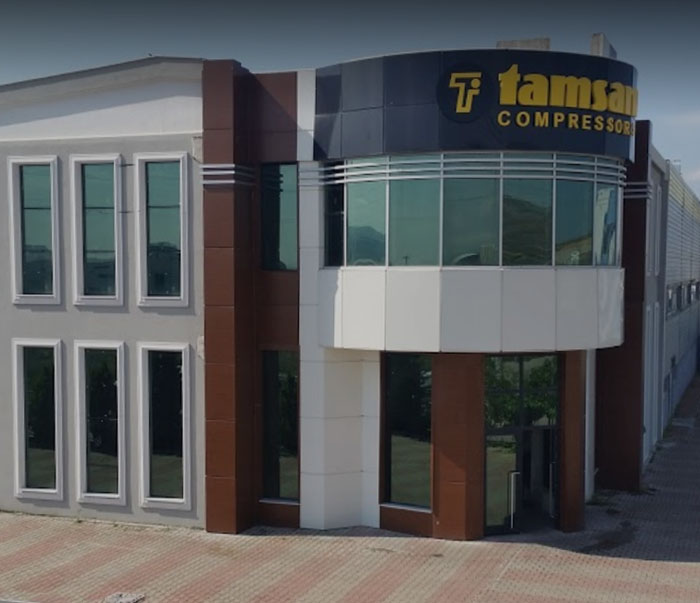 ABOUT TAMSAN 
Tamsan Compressors have been manufacturing for 40 years and are well respected in the World Sector with exclusive outlets in the UK, Europe, Asia and the USA. The Company has a wealth of knowledge, are diverse and most of all do business with a smile.
Our UK technical team have excess of 100 year's combined experience within the compressed air market, and can offer varied skills and advice including Service, Installation, Sales, energy saving, project management and much more.
TAMSAN COMPRESSORS
INVERTER SERIES
Inverter compressors are frequency controlled screw air compressors. It adjusts the engine speed in accordance with the instantaneous air requirement in your business and provides 35% energy savings compared to load – unloaded compressors.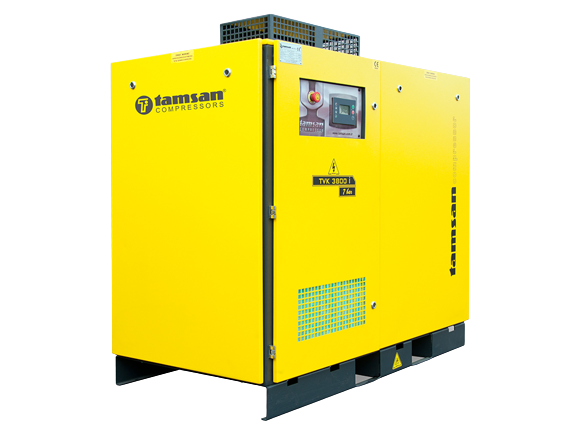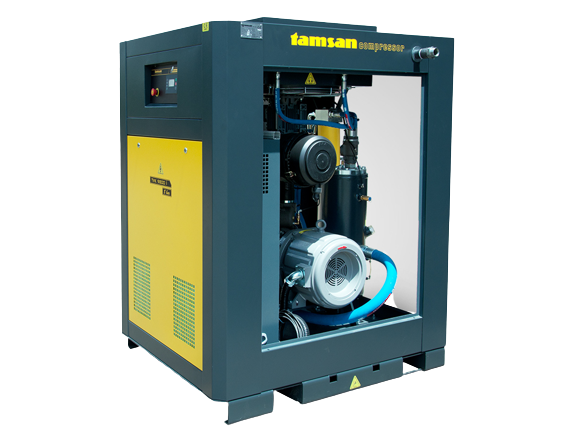 Servo Series
The most important feature of servo screw air compressors is that they provide 20% to 50% energy savings compared to fixed speed screw compressors, as well as 8% more energy savings than normal type inverter screw air compressors. The reason for this is that normal type inverter compressors have asynchronous motors and with these motors, 88% to 90% efficiency can be reached. However, screw air compressors with servo frequency control have a synchronous motor. These motors can operate with an efficiency of up to 96%. For this reason, it is known as a 1st class energy-saving motor. In the chart below, the efficiency of 6(592) is compared with the normal type motor.
Our servo screw air compressors have a structure in which the screw unit and high efficiency synchronous motor are integrated. The compact system occupies less space as it has smaller dimensions.
A Smarter Control System
Air capacity and system temperature can be adjusted automatically. The compressor runs at a constant temperature and the system is very easy to start. The magnetic field design and intensity distribution are at reasonable levels. No matter how wide the engine operating frequency is, the noise level is low. Servo motor is 1/3 the size of normal synchronous motor. Therefore, it is easier to maintain. The servo screw air compressor has been cleverly designed to improve system reliability and easy maintenance.
Stable Air Supply
A constant air supply is ensured thanks to the stepless speed regulation of the inverter's PID controller or the inverter itself.
What is the warranty period of your Screw Compressor?
Except for parts such as filter – separator and oil, the entire compressor system is under warranty for 24 months. Tamsan guarantees to provide new spare parts free of charge in case of malfunctions that may occur in the compressor other than maintenance or misuse (excluding spare parts such as filters and separators and oil)